Captain Kidd Talks James Bond-Inspired New Single 'Limit'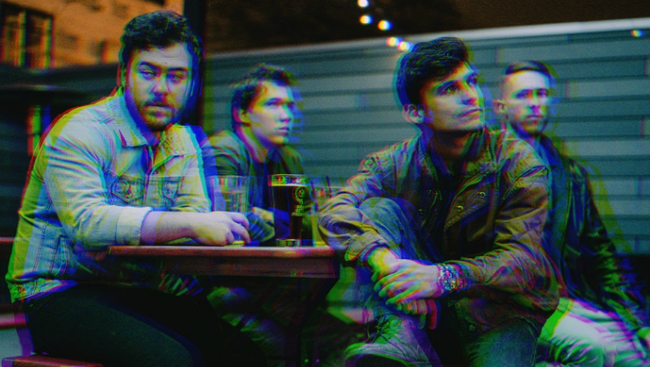 Captain Kidd know a thing or two about creating psychedelic pop in 2018 and their newest single, "Limit," can attest to that claim. As their most collaborative effort yet, the three-minute cut leans more on the minimal side, while still flourishing with moody production, enchanting vocals and an intriguing narrative of an intertwining romance. Sure, their name might not be a familiar one, but after serving as live support for the likes of Glass Animals, Capital Cities, Wiz Khalifa, and GRiZ at various music festivals and releasing their newest batch of tunes, we have a feeling that just might change in the near future.
Ahead of their upcoming show at Newport Music Hall in Columbus, Ohio on Saturday (April 28) alongside Versperteen and Vinyl Theatre, iHeartRadio spoke with the four-piece about their new self-produced single, being inspired by the James Bond franchise and how they are changing up what it means to interact with fans in 2018. Scroll on below to read our Q&A with the indie pop band.
iHeartRadio: Let's start with the creative process for "Limit." Can you speak to this track being the band's most collaborative effort yet?
Captain Kidd: Our past couple releases prior to "Limit" typically followed a similar formula: Nate (our singer) would bring a song idea to the band, and we'd polish it up in the studio as a group. With "Limit," everything came together a lot more spontaneously. We came up with the main groove during an impromptu jam session we had in place of a snowed-out rehearsal, and then spent the entire next weekend watching James Bond re-runs/putting the song together in our basement.
Speaking of, what's your favorite 007 film?
Well, our modern favorite is definitely Casino Royal, since it was the first Bond movie in our lifetime not to star Pierce Brosnan (sort of joking, but not really). We love the grittier, more realistic take on the classic formula brought to life by Daniel Craig and co…though we can't necessarily say the same for some of the newer films. As far as classic Bond goes, nothing beats Goldfinger for us.
For those that aren't aware, how would you go about describing the band's sound?
We're basically trying to make the soundtrack you'd put on repeat while speeding down the Autobahn – authentic, upbeat dance music with some verbed-out guitars and spacey synths. Artists like The xx are huge influences on us because they do such an excellent job of marrying traditional instrumentation with DJ beats and production, which is something we want to continue trending towards with our future material.
You guys have tried to help fans avoid online fees to your shows. What kind of fan interactivity is most important in 2018?
With social media, it can be easy to get in a routine of posting, liking, commenting instead of initiating real interaction with fans. We think it's important, now more than ever, to interact with fans on a personal level. In our opinion, the best way to do so is in a live concert setting, which is a major reason why we push so hard to get affordable tickets to our fans. One of the things we've been doing recently is hosting meet-ups at local Donut & Coffee shops around town…so far, it's been a great way for us to cut out the middleman and connect more with our fans.
How is progress on the band's debut LP going?
So we've actually decided to forgo a traditional album release for the LP, and just release a song every month instead. The album itself is still in the works – we just figure it'll be more fun for us and our listeners if we put the songs out there as we finish them, instead of waiting to release them all at once. But we're really happy with the progress we've made over the past several months, and can't wait to share everything we've been working on.