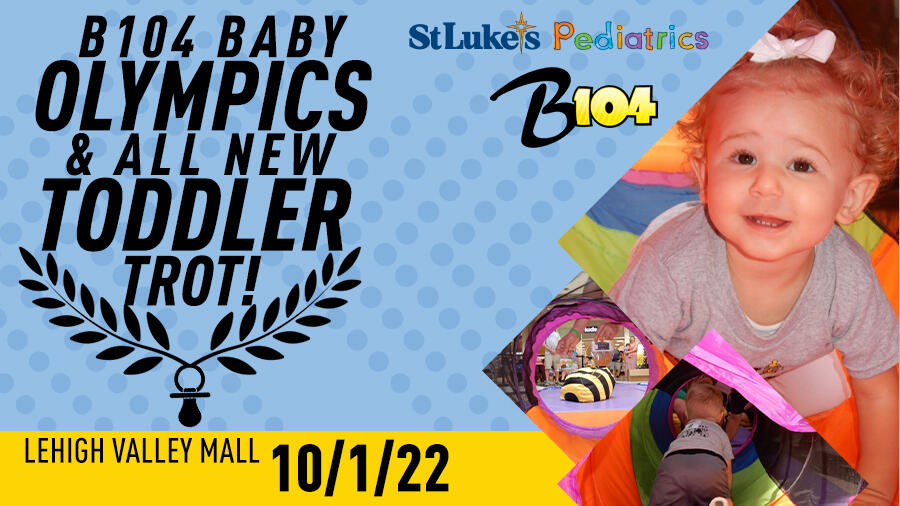 The B104 Baby Olympics and Toddler Trot (2022)
We are happy to bring back our 2022 B104 Baby Olympics and INTRODUCE OUR ALL NEW TODDLER TROT - Saturday, Oct. 1st at the Lehigh Valley Mall - Hosted by Mike and Steph!
The Baby Olympics Event: Starts at 11AM at the Elevator Court of the Lehigh Valley Mall. This event is a PRE-REGISTRATION ONLY and we will pre-qualify 50 children ages 12 to 24 months! These tykes will race 2 at a time down a KID FRIENDLY obstacle course (for fun). These participants will receive a B104 Baby T-Shirt, a Cookie Medal from Kym's Creations Bakery and a chance to win GRAND PRIZES!
TODDLER TROT: This NEW event will happen IMMEDIATELY following the B104 Baby Olympics Event. This event is open to children ages 25 months to 48 months (2 to 4 years of age)... This event will also allow for 50 pre-qualified participants. This event will allow our tykes to walk around our TODDLER TROT route inside the mall and pick up swag from participating sponsors.
NEITHER EVENT WILL ALLOW WALK UP REGISTRATION (DAY OF EVENT) AND NO DOUBLE REGISTRATION FOR PARTICIPANTS - PICK ONE EVENT TO PARTICIPATE IN! FAMILIES CAN PRE-REGISTER ONE CHILD IN EACH EVENT! Exceptions will be made by Promotions for Twins, Triplets, etc. We will do our best to make this a COVID safe event! Questions: mandy@b104.cm
TO PRE-REGISTER FOR THESE TWO EVENTS...
You can call into Mike and Steph in the Morning starting the week of Aug. 29th - Call 610-720-1041 Weekday Mornings between 6am - 9:30AM | Tell Mike and Steph which event you're looking to sign up for: Baby Olympics or Toddler Trot!
Thank you to our event partners:
And our presenting sponsor: