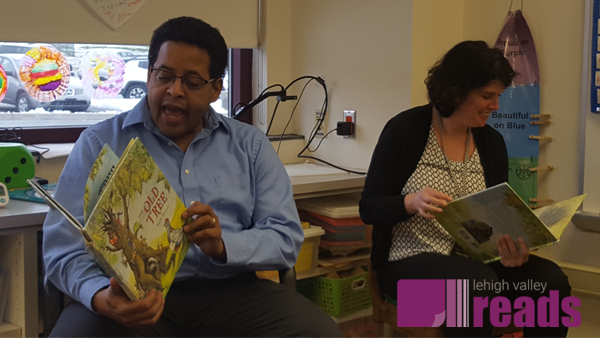 Mike and Steph's CLASSROOM Reading Program is BACK for the 2022 / 2023 School Year powered by: Lehigh Valley Reads!
Educators: If you would like to have Mike Kelly and Steph Wells from the B104 Morning Show READ to your Kindergarten through Third Grade Classroom...
Please send an email to: mandy@b104.com with the following information:
Your First and Last Name
Your Contact Phone Number
Valid Email Address
School District / School Name
Address for School
Your Position in the School
Grade Level
# of Students in the Classroom
Do you prefer a VIRTUAL visit or IN PERSON Visit
Optional: If you have a preferred month... let us know, and we'll try to accommodate!
Brought to You By: Lehigh Valley Reads

THINGS TO NOTE:
Readings are scheduled 1x per month between September 2022 and June 2023 - During the School Day (Monday - Friday)
Only open to Kindergarten through 3rd Grade
Readings MUST be scheduled by an education professional - parents, please ask your child's teacher!
First Come / First Serve Basis
Corey the Apple from Lehigh Valley Reads MAY join Mike and Steph at our events - based on availability!
Readings generally last 45 minutes to an hour and include Mike and Steph reading to your classroom, and answering questions from your students.
If you oversee multiple classrooms in the same grade level, we can try to do a combo reading as long as the students can be seated comfortably in one room, and can hear Mike and Steph. We want to make these personable events, while maintaining a COVID safe space.