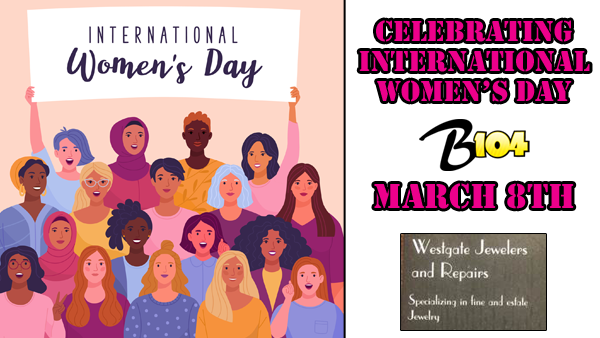 B104 & IHEARTRADIO CELEBRATE INTERNATIONAL WOMEN'S DAY ON MONDAY, MARCH 8TH
WE'LL CELEBRATE THE TALENT, INFLUENCE AND POWER OF WOMEN!
ALL DAY MONDAY, MARCH 8TH:
WOMEN WILL TAKE OVER THE MIC ON OUR RADIO STATIONS NATIONWIDE
AT 5PM - HEAR SONGS FROM THE MOST POWERFUL FEMALE VOICES
THEN AT 8PM ON IHEARTRADIO'S FACEBOOK AND YOUTUBE CHANNEL, WE SIT DOWN WITH CARDI B, GWEN STEFANI AND KELSEA BALLERINI AS IHEARTRADIO PRESENTS: SEE HER, HEAR HER – CELEBRATING WOMEN IN MUSIC.
YOU CAN LISTEN TO THE SEE HER, HEAR HER POP, COUNTRY AND HIP HOP PLAYLISTS ON IHEARTRADIO APP WHEREVER YOU GO
THE COUNTDOWN TO INTERNATIONAL WOMEN'S DAY IS ON… WITH B104 & iHeartRadio!
Powered locally by: